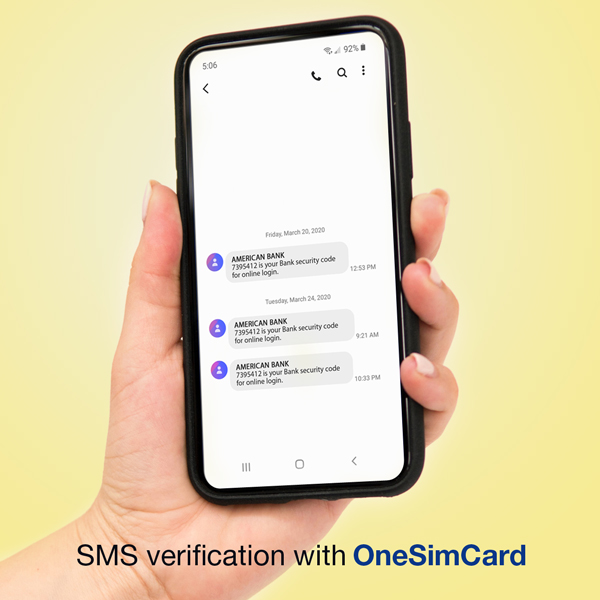 With growing concerns about online security today, more and more companies use 2-factor authentication (2FA) or 2-step Verification (2SV) for their services access.
The secondary security layer, which comes in addition to entering your login + password combo, helps protect your account from unauthorized access. The extra verification commonly involves a security code sent to you via SMS.
Account SMS Verification for Travelers and Expats and temporary residents.
2FA / 2SV is often a default security check when opening an account online.  SMS verification may also trigger automatically, when you register or login from a new unrecognized location. This can be a real problem for international travelers or expats who may not have a mobile number capable of securely receiving that verification SMS.
Another affected group is temporary visitors like business people, temporary workers and students. They often have to open bank and others accounts in the US. However, after their departure they may no longer be able to access their accounts online.
OneSimCard can help. With OneSimCard you can securely receive verification SMS anywhere in the world regardless of your location, IP address or device. OneSimCard provides you with a special US mobile number that allows you to forward Verification SMS to any email address or any other mobile number of your choice.
The mobile number works with many different companies like WhatsApp, US banks and many other financial institutions like PayPal.
Online Management without any SIM card.
OneSimCard Mobile SMS Verification numbers do not require any physical SIM cards. You can manage SMS forwarding completely online. Change your SMS forwarding preferences as many times as you need. Simply log in to your secure online web account and make your changes.
Existing OneSimCard customers can easily add these verification SMS numbers in the Personal Extra Numbers (PEN) section of their web account.
Security is a priority
Many free online services with disposable group phone numbers offer questionable security for your verification message. Their numbers are often shared with other people and your verification code (if it arrives) can be visible publically. This is a dangerous way to verify important accounts.
In contrast, OneSimCard verification phone numbers are completely secure. They   utilize reputable domestic networks to rout your messages every time. Nothing is posted publically and your message is forwarded to the destination you specified.
How to Order a US SMS Verification mobile number 
Ready to receive your verification SMS right now? These numbers are available only on onesimcard.com.
Buy your phone number for SMS verifications here.