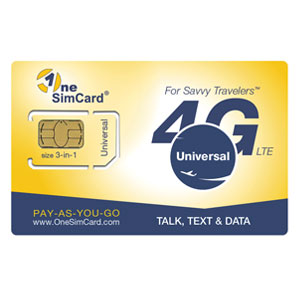 The OneSimCard Universal is finally here. The Universal SIM card brings you more new features and savings at no extra cost.
Cheaper Standard Mobile Data Rates
Save more money with standard mobile data rates from $0.20 per MB in many countries. This new standard mobile data rate on the Universal is $0.05 cheaper than on the OneSimCard Plus.
4G LTE speeds in 50+ countries
Surf the web at blazing fast 4G speeds in over 50 countries. The 4G coverage includes Europe, Australia, China and many other destinations around the world.
Direct Dial in 50+ countries
Enjoy a simpler calling experience without CallBack. Direct Dial is like your regular everyday calling at home – the calls are directly connected to the other party.
The Universal international SIM card also has all of OneSimCard's standard features including Personal Extra Numbers, Discount Plans, Voicemail and 24/7 Customer Support.
You can compare all rates and coverage on the Rates and Coverage page or order the Universal SIM Card here.
We hope you will enjoy the new OneSimCard Universal.
Happy Travels!
The OneSimCard Team