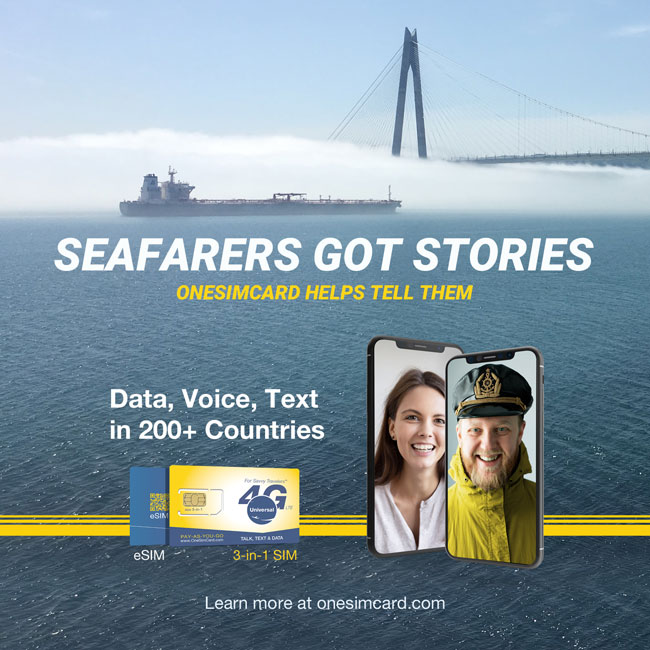 Different ports in different countries, often hundreds even thousands of miles apart, means many seafarers have to spend a lot of time away from their family and friends.  This is why being able to stay connected to their loved ones is so important.
Seafarers travel all over the globe and need a reliable and affordable internet connection no matter where they go. Satellite mobile connectivity is often expensive, and onboard Wi-Fi connection is not always available. Finding a mobile service provider at a new port every time can be as easy as learning a new language.
Luckily, OneSimCard has seafarers covered. OneSimCard's international SIM cards can help seafarers stay connected conveniently and affordably virtually anywhere they sail. Best of all, it takes just one sim card.
Coverage
OneSimCard works in over 200 countries. No need to waste time finding local mobile carrier shops, tinkering with yet another disposable sim card. Get connected even before you dock with OneSimCard and get the most out of your stay.
In addition, many countries feature more than one carrier, which effectively increases the coverage in those countries.
See all coverage and rates at onesimcard.com/rates
Save money on Connectivity
Enjoy low high-speed data rates. OneSimCard features free incoming calls in over 160 countries on your primary European number that comes with every SIM card.  Moreover, your friends and family can send you free SMS from onesimcard.com no matter where you are in the world. All your incoming SMS on OneSimCard's primary number are free as well.
Local phone numbers are available in 60+ countries to make it even more convenient for other people to reach you.
Stay in full control of your spending. The whole service is 100% prepaid, so there are no contracts to sign, and we offer a range of recharge settings to put you in the driver's seat when it comes to spending.
Discount plans – More ways to save
Discount data, voice, and SMS plans are a great way to save even more money on high volume usage.
Data plans are especially popular.
With OneSimCard you get a variety of choices when it comes to data plans, so you never overpay.  Data plans range from 150 MB to 10 GB of high-speed data and everything in between. There are even different terms from 7 to 30 days to accommodate various stay durations.
Connectivity for any Device
Whether you have a phone, tablet, computer, a personal Wi-Fi hot spot or even a smartwatch, we have a connectivity solution for you.  OneSimCard comes in all sizes and including eSIM, which can be downloaded to your eSIM-capable device.
Just make sure your device is unlocked (some carriers lock devices to prevent them from being used on other networks) and you are good to go.
24/7 Customer Support
With OneSimCard, you get customer support when you need it. No matter where you are in the world, our 24/7 tech support is always standing by to answer any questions you may have in English and Spanish.
To learn more about our international sim card, and the discount plan line-up it comes with, visit onesimcard.com. You can also contact our Customer Support via chat, phone or email. Talk to you soon!
Happy travels!