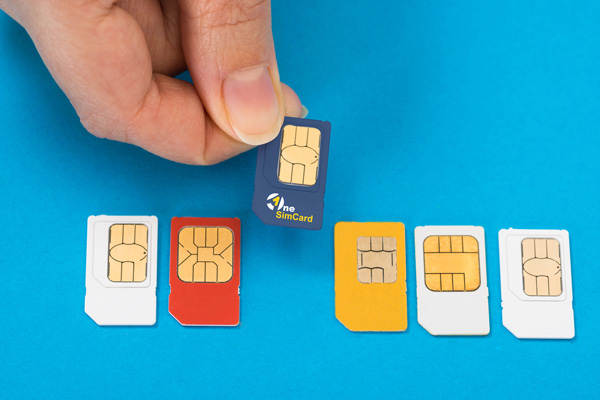 More often than not international SIM cards offer a superior choice to using a local SIM card when traveling abroad. In this article, you will learn what to look for when selecting the best SIM card to stay connected during your travels and save money.
Coverage
Obviously a starting point of your selection. Does the SIM card cover the country you are going to? What about other countries on the way to your destination? Will you have a secure data connection during layovers?
Many SIM cards compete only for the most popular countries, but if you decide to get off the beaten path, you are on your own.
Think about the future. Do you like to travel? Do you travel a lot?
Unless you like buying and installing different disposable SIM cards, check all the destinations you may be visiting and see what your SIM card really covers.
OneSimCard operates in over 200+ countries featuring multiple carriers in many destinations for extra coverage. See all roaming rates and coverage here.
Phone Numbers
No internet. No problem.
Many people who exclusively rely on the internet for connectivity may not think much about phone numbers anymore. A few realize though when the mobile internet is not available, you may still be able to make and receive calls and SMS. This adds a whole new layer of safety.
Does your phone number require an internet connection for Voice and SMS connectivity? Make sure you can use your number without the internet, as data coverage is not always available.
Local phone numbers
Having a local number can be very convenient when you are abroad. Just think about how you use the phone number in your home country.
Can you easily add and remove local phone numbers from you international SIM card when you travel? Can your friends and family easily reach you?
OneSimCard comes with 2 included phone numbers: Europe & USA, Canada, UK or Australia. In addition you can add local phone numbers in 60+ countries
Verification SMS
Many service providers, especially banks, use 2-step verification for account access. This can catch international travelers by surprise when they try to access those services abroad, but instead get locked out of their accounts unable to verify their credentials.
Does your phone number support verification SMS? Can you add a phone number that supports SMS verification?
OneSimCard offers special numbers for receiving verification SMS from US banks and other financial institutions anywhere in the world.
Data, Voice and SMS Plans
Many SIM cards use only plans. Some, like OneSimCard use plans in addition to the default pay-as-you go rates.
In the plan-only case, it's a lot easier to overspend. You may need to purchase another plan if you enter a new country or your original plan expires. Also, the coverage of plan-only SIM cards is usually more limited.
When a SIM offers pay-as-you-go Data, Voice and SMS rates, you have a choice between going back to pay-as-you go rates or getting another discount plan. This can save you more money as well provide more coverage.
A special note goes to unlimited data plans, which more often than not is a suboptimal choice. We discuss unlimited data plans in detail here.
Customer Support
Regular business hours may not be very helpful when you are several time zones away without any internet. Aim for 24/7 support if possible, and an easy way to receive it.
With OneSimCard, for example, your first 3 minutes of a Support call from your primary OneSimCard number are free. It does not matter where you are in the world (and no data connection is required to make that call).
Price
Very low rates may come with a contract, monthly or connection fees attached. Some SIM cards may have a rather short SIM card or balance expiration. Make sure you understand what your international SIM comes with.
OneSimCard is 100% prepaid. It does not require any contracts or connection fees.
Every OneSimCard features free incoming calls in over 160 countries on your primary European number. Moreover, your friends and family can send you free SMS to that number as well from onesimcard.com. No matter where you are in the world, all your incoming SMS to OneSimCard's primary number are free to receive.
We hope this summary helped you to make a choice. If you have any questions, feel free to comment below or contact Customer Support on onesimcard.com or check out our lineup of international SIM cards here. Customer Support is available via chat, phone or email. Talk to you soon!
Happy travels!